NEWS FROM THE CITY OF OAKLAND
Update from Alameda County Public Health
Find a COVID-19 vaccine near you.
Alameda County residents can find a vaccine site using the new
interactive map
on their website. Enter the preferred zip code to view multiple locations including information about eligibility, appointment status, and how to register. Use their new
vaccine registration
link to schedule an appointment.
If you are unable to get an appointment through Alameda County and you have a
health care provider
, please ask
if they have appointments available for you.
The pandemic is not over.
COVID-19 is in our community and more than 60% of our residents' age 16+ are fully vaccinated. As we build community immunity, please continue COVID-19 precautions to avoid severe illness, hospitalization, and death. It's also important to keep masking even after vaxxing.
Fully vaccinated?
CDPH recently posted
recommendations
for the fully vaccinated including what you can and should continue to do.
You'll find information on COVID-19 variants, breakthrough infections, vaccine supply, and guidance after vaccination in this week's
update
to Alameda County's Board of Supervisors.
City of Oakland Announces Appointment of New Fire Chief
City Administrator Ed Reiskin announced the selection of Reginald D. Freeman to serve as the next Fire Chief for the City of Oakland, effective May 17.
Mr. Freeman most recently has served as the Fire Chief for the City of Hartford, Connecticut since 2016. He will take over for Deputy Chief Melinda Drayton who has held the position in an interim role since April 2020.
"Mayor Schaaf and I are excited that Chief Freeman has accepted our offer to become the next Fire Chief for the Oakland Fire Department at a very dynamic time for both the fire service and the city of Oakland," said City Administrator Ed Reiskin. "Recognizing the importance of this position, we undertook an exhaustive recruitment process and we're extremely confident that Mr. Freeman is the right choice for this moment. He brings a tremendous level of professional experience leading fire departments and emergency management functions, has demonstrated a strong commitment to professional development, and built a successful track record of achieving strategic goals and objectives at every step of his career."
Save the Date: April 28 Town Hall
We want safer streets in every neighborhood.

Join us at a Town Hall on

April 28

at

6 p.m.

to get an overview on our Safe Oakland Streets effort to improve safety on Oakland roadways, as well as new strategies to prevent and address sideshows. You can pre-submit

questions here

.

Join our partners at the Oakland Parks and Recreation Foundation to help ensure all Oakland kids have equitable access to a safe summer of learning, growth and play! Spring for Parks returns on April 29, 2021, as a special virtual fundraiser to support scholarships for Oakland, Parks, Recreation and Youth Development's flagship Town Camp summer program.
Let's gather in community to learn about Town Camp's impact and raise money to make camp available to all families, regardless of ability to pay. This year's program includes a keynote address from Rue Mapp of Outdoor Afro, a special performance from Goapele, the voices of Town Camp kids and staff...and many more surprises! Spring for Parks is free to attend.
Oakland is celebrating our 27th Earth Day in 2021 with volunteer activities throughout the month of April. Individuals, households and small groups are invited to clean up your neighborhood streets, parks and waterways with litter removal, habitat restoration and other beautification projects.

Individual actions can add up to big changes. Amplify your impact by reporting your Oakland Earth Days volunteerism and Acts of Green pledges and building and sharing the narrative of good deeds!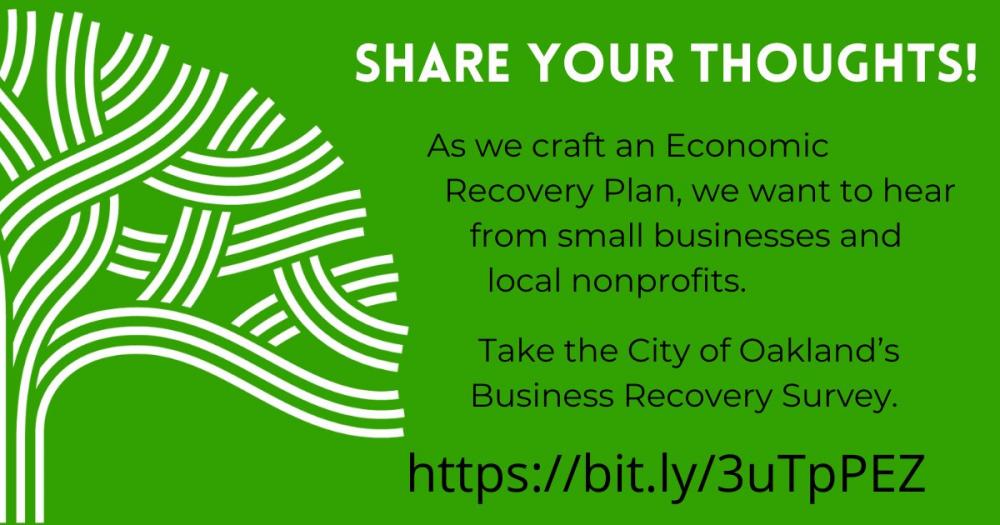 We're proactively developing an economic recovery plan to assist small businesses in reopening and thriving as
#Oakland
emerges from the COVID-19 pandemic. Are you an Oakland business owner or do you run a nonprofit organization? Share your thoughts on Oakland's economic recovery by completing a brief survey at
https://

buff.ly/3v28j1j
Webinars, Virtual Events Planned for Small Business Week
From May 2 to 8, Oakland will celebrate Small Business Week with about a dozen webinars and events for small business owners and entrepreneurs. From websites and ecommerce to accessing capital and attracting investment, the educational webinars are designed to help Oakland businesses survive and thrive. A virtual networking event and physically distanced marketplace round out the week's offerings. See the full schedule and registration links at

www.oaklandca.gov/SBW

.
Spotlight on the Oakland Fire Dept.
for their partnership and dedicated work supporting COVID testing and vaccinations with La Clinca de la Raza.
Chief Medical Officer Paul Bayard said, "We know you and your staff added this to your already heavy workload, share our commitment to the community, and brought energy and enthusiasm every day.
It's been an honor working with you, and as discussed earlier today with Chief Luby, we will undoubtedly be in touch again, this is an ongoing partnership.
"



Spotlight on Climate Coordinator

Shayna Hirschfield-Gold,

who received a national NextGen Public Service Award for her work in managing the ECAP and the equity aspects associated with both the ECAP and OCAN.

A formal announcement

was released on Thursday, April 15.





Spotlight on

Tree Trimmer Jaime Jimenez

, who has put the final touches on his bear sculpture at the Manzanita Recreation Center. The bear was carved out of a cypress tree that fell and required removal. Tree Services has requested support from Facilities to treat the wood so that the sculpture will be preserved for years to come.
Featured Meetings & Events
| | | | | | | |
| --- | --- | --- | --- | --- | --- | --- |
| |   | |   | |   | |