NEWS FROM THE CITY OF OAKLAND
Alameda County Vaccine Updates
Alameda County continues to make progress with vaccinating Oakland residents including people who are currently unhoused, have low mobility, or are homebound. This week they also reduced age and employment-based barriers for people who live in high-impact areas,
to prioritize vaccination for communities that have faced the highest rates of COVID-19 throughout the pandemic. Now, a

nyone 16 and over can now book an appointment if they live in one of 12 ZIP codes spanning Hayward, Oakland, San Leandro and San Lorenzo: 94601, 94603, 94605, 94606, 94607, 94621, 94541, 94544, 94545, 94577, 94578 and 94580.

Many of our essential, frontline workers and their families live in these priority zip codes and often in crowded or multigenerational households. Alameda is jumping ahead of the state of California, which will open vaccines to everyone 16 and over beginning April 15.



As of April 7,

over 980,000

COVID-19 vaccine doses have been administered in Alameda County, and nearly 394,000 residents are fully vaccinated representing 30% of residents age 16 and older. Vaccine supply to Alameda County continues to lag behind the expanded number of residents now eligible within the state framework.
Oakland CARES Act Funds Supported Thousands of Individuals & Businesses Most in Need
$36.9 million in CARES Act funding allocated by the State of California last July was used to quickly provide direct financial assistance to Oakland's most vulnerable communities, including Oakland renters, homeowners, small businesses, nonprofits, artists, displaced workers and home-based entrepreneurs through intermediaries with expertise in grant giving.



Additional funds were used to provide technical assistance and support programs for vulnerable communities and organizations, enhance food security, advance health and safety initiatives, support displaced and at-risk workers, and generally address the ongoing health, safety, and economic impacts of the COVID-19 pandemic. In total, nine City departments were given responsibility to disburse CARES Act funds over the City Council-directed service areas, which resulted in 27 discrete programs. All funds were allocated and expended by the December 30, 2020 deadline as required.
Safety Measures to be Implemented at Lake Merritt
Lake Merritt is Oakland's crown jewel, a place of extraordinary beauty where everyone feels at home. It's a refuge for people and wildlife alike. And over the past few years, especially on warm days and during summer months, it has become very crowded.
The dramatic increase in visitors has caused parking, traffic safety, and noise issues; attracted unauthorized commercial vending, including alcohol and cannabis sales; generated large amounts of litter impacting the Lake; and placed an outsized burden on City resources. Of greatest concern, the sheer number of vehicles that are double and triple parked on Lakeshore Avenue have impeded access for emergency vehicles.
In the summer and fall of 2020, the City launched a pilot street vending program, implemented street closures, restricted parking, and enhanced public outreach and enforcement activity. These measures proved effective, so continuing through November, the City will be implementing additional measures to address the impacts of large crowds at the Lake on weekends. Addressing these complex issues will be a process and may take some time, so we appreciate the community's patience as we implement these changes.
Emergency Rental Assistance Program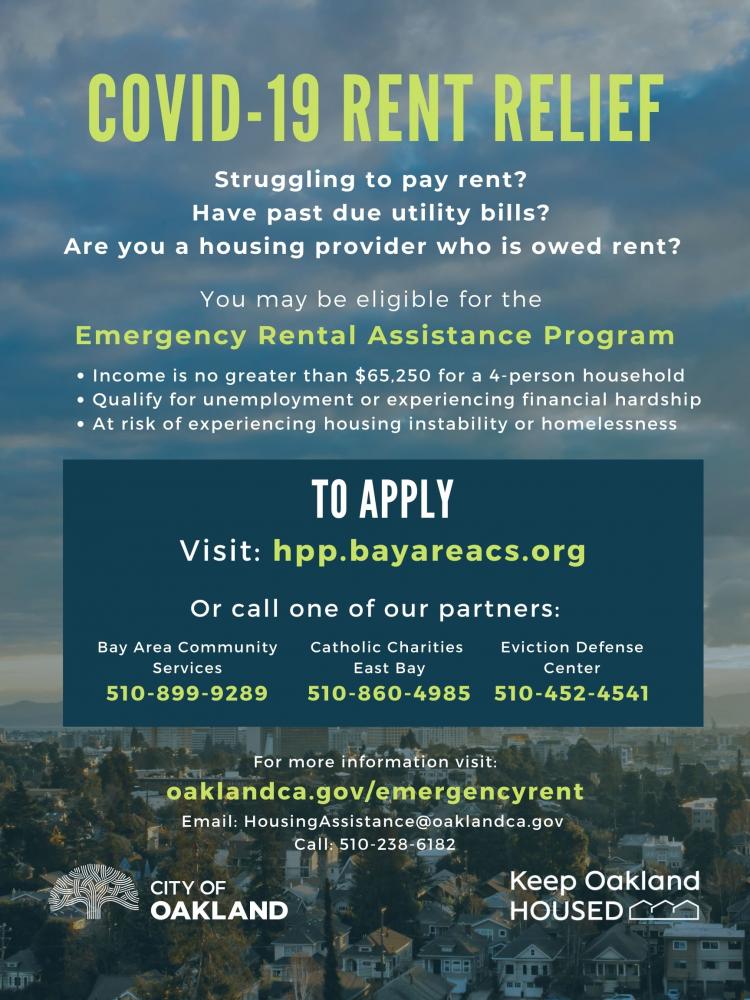 Struggling to pay rent?  Have past due utility bills? Are you a housing provider who is owed rent? You may qualify for Emergency Rental Assistance Program. Program eligibility:

Income is no greater than $65,250 for a 4-person household

Qualify for unemployment or experiencing financial hardship

At risk of experiencing housing instability or homelessness

To apply, visit:

hpp.bayareacs.org

or call one of our partners:

Bay Area Community Services: 510.899.9289

Catholic Charities East Bay: 510.860.4985

Eviction Defense Center: 510.452.4541
Oakland Feather River Camp
Family Camp
registration
is now open to the public for Summer 2021! Since 1924, Feather River Camp has provided Oakland and Bay Area youth and families with unique and memorable summer mountain camp experiences. Join Oakland Feather River Camp in the beautiful Plumas National Forest, where its outdoor, open-air facility creates the perfect environment for safe relaxation, recreation, fun, and friendships. Discounts are available for new families and generous scholarships and financial assistance are available to those who qualify.
April 15 Guaranteed Income Town Hall
Last week the Mayor's Office launched
Oakland Resilient Families
, a pilot to provide 600 low-income BIPOC Oakland families with a monthly $500 guaranteed income for 18 months. They will be hosting a Town Hall on April 15 to address
questions
and to reach more families.
Featured Meetings & Events
| | | | | | | |
| --- | --- | --- | --- | --- | --- | --- |
| |   | |   | |   | |