NEWS FROM THE CITY OF OAKLAND
Virtual Inauguration Ceremony for New City Councilmembers, City Attorney, and School Board Officials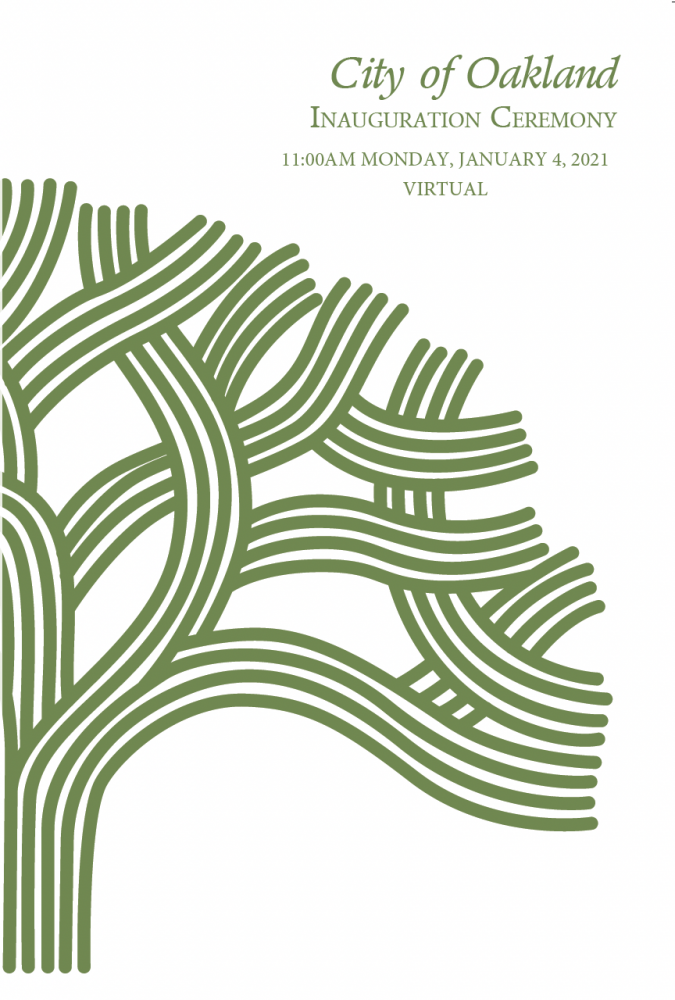 On Monday, January 4 at 11 am, the City of Oakland will host an inauguration ceremony to swear in five Oakland City Councilmembers, the City Attorney, and four Directors of the Oakland Board of Education.

Mayor Libby Schaaf will provide opening remarks, and Acting City Clerk Asha Reed will administer the oaths of office.



The swearing-in ceremony will be followed by a Special Meeting of the Oakland City Council to include the election of the Council President and Vice Mayor, and appointment of the Council President Pro Tempore. Following adjournment of the special City Council meeting, the Oakland Unified School District's Board of Education will hold its Annual Organizational Meeting, including election of the Board President and Vice President.



The Oakland Police Department Rolls Out Text-to-911

The Oakland Police Department is pleased to announce, that our community members can now use Text-to-911. Starting, December 31, 2020, Text-to-911 will be an additional safe and reliable resource for residents to contact the Oakland Police Department in an emergency.

You should always call 911 if you can and text 911 only if you can't. Text-to-911 allows mobile users to send a text message to reach 911 emergency Dispatchers in situations where it is not safe to place a voice call.
Federal Economic Impact Payments
Starting December 29, 2020, the Treasury Department and the Internal Revenue Service began delivering a

second round of Economic Impact Payments

to millions of Americans as part of the implementation of the Coronavirus Response and Relief Supplemental Appropriations Act of 2021.

The initial direct deposit payments may arrive as early as the evening of December 29 for some and will continue into next week. Paper checks began to be mailed Wednesday, December 30.

Eligible individuals will receive an Economic Impact Payment of up to $600 for individuals or $1200 for married couples and up to $600 for each qualifying child. Generally, if you have adjusted gross income for 2019 up to $75,000 for individuals and up to $150,000 for married couples filing joint returns and surviving spouses, you will receive the full amount of the second payment. For filers with income above those amounts, the payment amount is reduced.

This second round of payments will be distributed automatically, with no action required for eligible individuals. Later this week, you'll be able to check the status of your payment at

IRS.gov/GetMyPayment

.

View

OPD's safety tips for avoiding stimulus check scams

.
City of Oakland, Bay Area Community Services, Announce Opening of 17 New Homes for Unsheltered Residents
The City of Oakland, in partnership with Bay Area Community Services (BACS), announced an innovative program that has resulted in the purchase of 17 residential homes for unsheltered residents.

Assisted by Project Homekey funds, the City contracted with BACS to purchase and convert 17 homes throughout Oakland to provide new interim housing for more than 100 previously unsheltered residents, the first of whom began moving in this month.

Recycle Your Tree, and Sort Your Holiday Items Right

Set clean trees at the curb for collection on your regular compost collection day:

December 28, 2020 – January 15, 2021



After January 15, cut trees to fit in your compost cart for regular weekly collection. Thank you for removing all stands and decorations. Your clean Holiday tree will be composted and returned to the soil as an amendment.
Play Winter Bingo and Win a Free Book
The Oakland Public Library's Winter Bingo game is back! Complete five activities by January 30 and qualify to win a
FREE BOOK
from #YourLibrary. The Winter Bingo fun family literacy game is recommended for kids ages 0-12 and is available to sign-up online or at any OPL branch.
Help Prevent Flooding: Adopt-a-Drain
With more than a week of rains forecasted to start Friday, you can sign up TODAY to help keep a nearby storm drain clean!

Residents and businesses can help minimize flooding in their neighborhood by volunteering with the City's Adopt-A-Drain program to keep a storm drain near their home or business free of debris.

About 1,100 storm drains are currently adopted by Oaklanders, but many thousands more are waiting to be adopted. By signing up, you will receive storm notification emails before large storm events, and the City can provide rakes, brooms, dust pans, bags and other supplies.
Featured Meetings & Events
January 3, 2021, 12pm




Virtual Lawyers in the Library

January 4, 2021, 11am




Virtual Inauguration Ceremony for New City Councilmembers, City Attorney, and School Board Officials




January 4, 2021, 12pm




Free Meal Pickup at the 81st Avenue Library

January 5, 2021, 9am




Free COVID-19 Testing at the 81st Avenue Library



January 5, 2021, 11:30am


Free Produce Pick-Up at the Melrose Branch Library

January 5, 2021, 12pm




Free Meal Pickup at the César E. Chávez Branch Library

January 5, 2021, 5:30pm




Virtual Lawyers in the Library




January 6, 2021, 12pm


Free

Meal Pickup at the 81st Avenue Library




January 7, 2021, 12pm


Free Meal Pickup at the César E. Cháve

z Branch Library




January 7, 2021, 3pm




Club de Conversación en inglés en Línea




January 7, 2021, 6pm




Virtual Lawyers in the Library




January 8, 2021, 12pm




Free Meal Pick-up at the 81st Ave Library




January 8, 2021, 4pm




Adventure Fridays




January 8, 2021, 7pm




Oakland Youth Poet Laureate Performances!



| | | | | | | |
| --- | --- | --- | --- | --- | --- | --- |
| |   | |   | |   | |